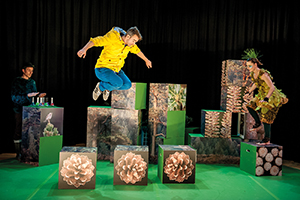 Barrowland Ballet:
Poggle
Studio
Saturday 30 September, 11.30am & 2.30pm
£6/£20 family and friends ticket (4 people, at least one under 18)
6 months - 4 years old

Created by Natasha Gilmore with dancers Jade Adamson and Vince Virr, with music and sound by Daniel Padden

Barrowland Ballet is one of Scotland's most exciting and successful contemporary dance companies and is based in the East End of Glasgow.

Mischief maker
Maker of fun
Tumble tumble
Tickle my tum
Beasties beasties
Buzzing bees
Poggle's not scared of
climbing trees
Splash splash
Squelch in mud
Creeping crawling
Chasing bugs

Poggle is the story of Vince, who wants to explore the forest but is too scared, until one day he meets Poggle, a friendly creature. A warm hearted sensory dance theatre piece with live music, clapping rhythms and comedy throughout in an imaginatively changing world which the children have the chance to explore.

FREE Creative Workshop following each show!
Pontio Cemlyn Jones Room, Level 2
Creative workshop inspired by 'Poggle' with the artist Tim Pugh.
Suitable for families and friends.