BLAS is Pontio's arts participation project offering children and young people various experiences of the arts. There are three aspects to BLAS, firstly we have our weekly drama workshops for children and young people, from year 3 to 13. Secondly, our health and well-being arts projects with children and young people. Thirdly, our youth arts projects in conjunction with professional companies that visit Pontio.

BLAS was launched in January 2013 following a successful bid for funding from Arts Council of Wales, and since then it has gone from strength to strength undertaking a number of projects with inspiring practitioners and Bangor's enthusiastic children and communities.

BLAS is run by Pontio Arts Development Co-ordinator, Mared Elliw Huws.

The project is funded by the Arts Council of Wales and the Widening Access programme at Bangor University

Weekly Drama Workshop
Pontio Studio
 
Weekly drama and performance workshops to develop confidence, stage presence, performing skills and have fun!

Where: Studio
When: Every Monday and Wednesday night – Term Time
Monday: 

5:00pm – 6:00pm – Years 3 and 4

,  

6:15pm – 7:15pm – Years 5 and 6

,

7:30pm – 8:30pm – Years 7, 8 and 9 


Wednesday: 

7:30pm – 8:30pm – Years 10 - 13


Cost: £25 (discount code available for residents of LL57 1 area)

Workshops are held mainly in Welsh. It is not essential to be fluent, and we welcome everyone of all language ability.
Contact the Box Office on 01248 38 28 28 to register.
For more details email Mared: m.huws@bangor.ac.uk
Here's a snapshot of the great work BLAS has done...
THEATRE SHOWS
Every term the BLAS members put a show on in Theatr Bryn Terfel. They work on the show throughout the term and put it together, bringing their own ideas to the stage with the guidance of Mared and the BLAS tutors. Here are the shows we've seen them do over the past few years.

DISCUSSION PANELS
During the spring term, BLAS brings together a panel of experts to discuss prominent Welsh texts. These sessions are aimed particulary at those studying the texts as part of the WJEC syllabus, with schools from across North-West Wales coming to the sessions. Previous panel sessions have discussed, Siwan by Saunders Lewis, the Oscar nominated film Hedd Wyn, Gwenlyn Parry's Y Tŵr and Caradog Prichard's Un Nos Ola Leuad . The panels have included Dr Manon Wyn Williams, Ffion Dafis, Maureen Rhys, John Ogwen, Steffan Donnelly, Huw Garmon, Dr J. Elwyn Hughes and many more.
HEALTH AND WELLBEING
Over the years we have run many health and wellbeing projects, working with various organizations and schools to bring generations together through the arts.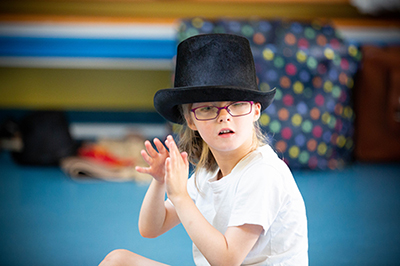 Exploring Girls' Confidence

Research undertaken in the US suggests that girls begin to lose confidence in their innate ability by the age of 6. BLAS spent ten days with pupils from Ysgol Llandegai to observe if there is evidence of this trend here in Wales and questioning if the arts have a role in preventing this inequality.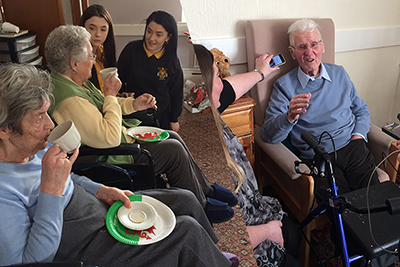 Lleisiau / Voices

We explored the power of conversation between young people and those living with dementia in bridging worlds and alleviating isolation. We recorded conversations between pupils for Ysgol Friars and the residents of the home to create a verbatim play that was performed in front of family, friends, academics and people who worked in Dementia Care followed by a Q&A session.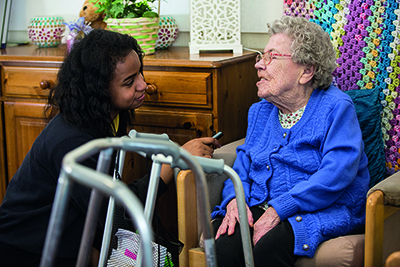 Ein Lleisiau / Our Voices

Our Voices was a development of the 2017 Voices project to hold and record conversations with people living with advanced dementia. The verbatim play was read to friends, family and specialists in our Studio Theatre.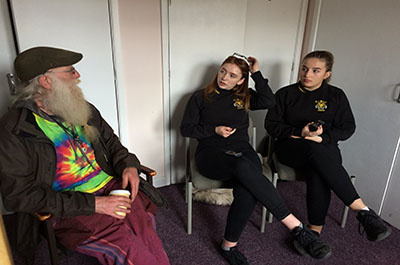 Lleisiau'r Stryd / Street Voices

Our latest project in 2019 under the 'Voices' strand was working with St Mary's Hostel in Bangor, a hostel working with homeless people. Students from Ysgol Friars recorded conversations with the users of the hostel to produce a verbatim play that was read in a special evening for family, friends and peers in our Studio Theatre.

CIRCUS FEAST PROCESSIONS
In 2015, 2017 and 2019 Pontio held a Gwledd SYRCAS Feast event, with a variety of circus events happening in Pontio and around Bangor for between 1-2 weeks.. BLAS have had the pleasure of working with companies from across the globe as well as with local schools and organisations to open our feast of contemporary circus with a procession through Bangor!
WORKING WITH COMPANIES VISITING PONTIO
BLAS has been fortunate to work with the numerous companies who visit Pontio to engage the local community and give people of all ages a taste of the arts.
OTHER PROJECTS
BLAS has undertaken numerous community and engagement projects in and around Bangor.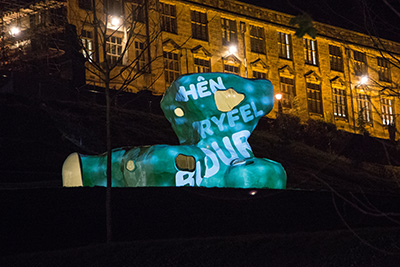 Caban - Remembering the poet Emrys Roberts

To remember Emrys Roberts, we held poetry workshops in schools with the poets Mererid Hopwood and Ifor ap Glyn. All the poems were projected onto the walls in Pontio's public spaces and the Caban public art piece, as part of a special projection performance. This project would not have been possible without the support of Emrys and Megan Roberts' family.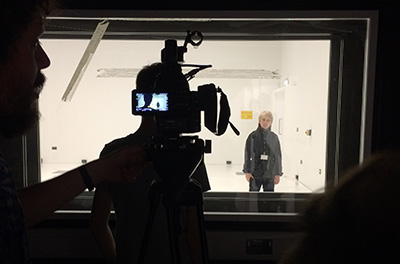 Pontio's Selfie

As part of the Ffilm+ project for families over the summer, we organised a fun film project. Over the course of three afternoons, Eilir Pierce helped a group of young people create a short film for themselves under the title 'Hunlun Pontio' (Pontio's Selfie). The finished version was shown in our cinema alongside a Q&A.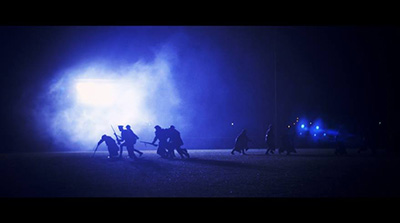 Dawel Nos, Silent Night, Still Nacht

In December 2014, we commemorated 100 years since the Christmas Truce of the First World War with a theatrical performance followed by a football game played by the under 13s and 14s of Bangor City Football Club's Academy with music by Côr y Penrhyn.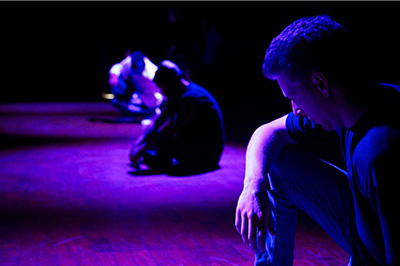 Rydych chi yma

During 2014 Firenza Guidi held workshops with years 5 and 6 in Ysgol Glancegin, Y Faenol, Ein Harglwyddes, Glanadda, Hirael and Hillgrove to coincide with a scheduled performance for the opening season of Pontio, Mae Yna Le. The first stage in the development of this was a show in PJ Hall called Rydych Chi Yma. Involved in the project was Ed Holden, choreographer Sarah Mumford and the professional street dancers Steel City Rockers.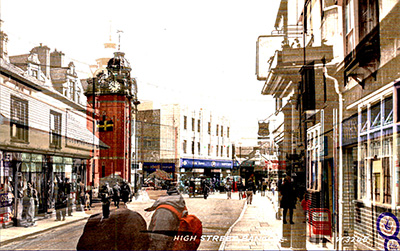 A'i Bangor?

A'i Bangor? was created as a project in the run-up to the opening of Pontio. As the community couldn't come to us during the build, we went out into the community to see what workshops we could offer that would be beneficial to local people. We worked with a wide range of children and young people through the Urdd, Bangor Dance Studio and Maesgeirchen Youth Club.