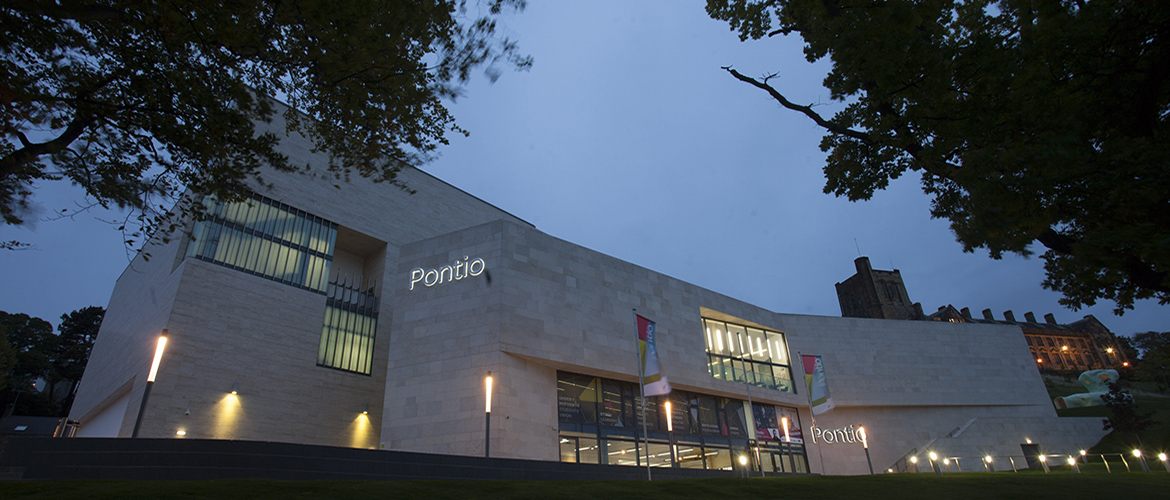 Welcome to Pontio Arts and Innovation Centre

Opening hours:Due to the Coronavirus Pandemic the Pontio building is now closed, and we are operating a reduced telephone service remotely. Your patience is appreciated at the current time, we may be longer than usual responding to your queries. Please use the general email address info@pontio.co.uk when possible, as this will be monitored 9-5pm Monday to Friday or contact us through social media.
Phone lines open: Monday to Friday 11am - 2pm
Cegin: Temporarily Closed
Copa Kiosk: Temporarily Closed
Bar Ffynnon:  Temporarily Closed

Address: Pontio, Bangor University, Deiniol Road, Bangor, LL57 2TQ

Split over six levels, Pontio is Bangor University's new arts and innovation centre.  The Grimshaw-designed building in the centre of Bangor is home to a flexible mid-scale theatre named after the world-famous bass-baritone Bryn Terfel, a studio theatre which holds up to 120 people, a  200-seater digital cinema, a cutting-edge Innovation Centre and a wide range of facilities for students, including a new home for the Students' Union and numerous learning and teaching spaces.  It also offers food and drink at Ffynnon bar on Level 0, Cegin café on Level 2, and Copa kiosk on Level 5.
 
Pontio offers an eclectic mix of entertainment seven days a week, from the latest film releases and independent films to music and drama, gigs, contemporary circus and aerial theatre, cabaret shows and more. 
Level 0 (see map)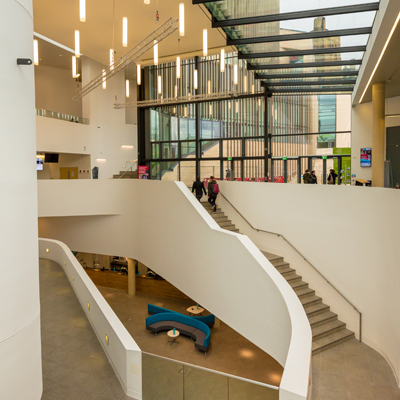 Level 0 is the main reception lobby. Here you will find the Reception, Box Office and the Theatre Bar as well as doors into Theatr Bryn Terfel Stalls and the 200-seat Cinema.
Theatr Bryn Terfel's flexible auditorium means that it can transform from a 450-seat traditional proscenium-arch theatre experience, to theatre-in-the-round, to standing only gigs for 500. This is the first space of its kind in north west Wales.

You'll also find the Cloakroom, mobility scooter charging area and a pram storage zone on this level.

As you look up you will be able to see all the way up through the building to the towering University Main Arts Building beyond. There is an incredible feeling of height in this airy, open space.
Take the lift or stairs up to Level 1. Here are the main doors into the Cinema and Theatr Bryn Terfel's Balcony 1. 
 
Toilets and baby changing facilities are also located here on Level 1.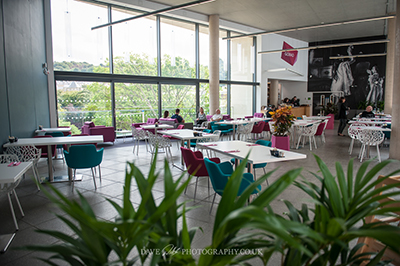 Move up to Level 2 and you arrive at another spacious open area. 

Here on Level 2 is Cegin, access to Theatr Bryn Terfel's Balcony 2, the Studio Theatre, White Box and Lecture Room 2.
The Studio Theatre seats 120 for more intimate events as well and is an ideal venue for community-based activities and student societies.
Glass doors lead out to the external performance area.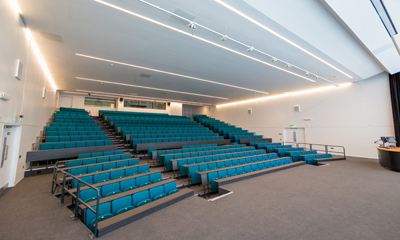 This is where you will find Hwb - the Pontio Innovation area. Pontio Innovation is about equipping individuals and businesses with the tools they need to succeed in the modern economy. With a focus on transdisciplinary working and rapid prototyping, the Co-Lab, Media Lab, Hackspace and Fablab areas are equipped with cutting-edge technologies. It boosts the University's cross-disciplinary teaching programmes and encourages collaborative work between students, staff and local businesses. Check out the Innovation Events page for details about what's going on here and read more about the Pontio Innovation philosophy.

Level 4 (see map)
Level 4 is the new home of Bangor Students' Union. With facilities for meetings and office accommodation - this puts students at the heart of Pontio.
At Pontio's topmost level there is a large lecture theatre which can seat up to 450 plus two spacious social learning areas. Between the two social learning areas there is a pod serving hot and cold drinks and snacks.

Make sure you visit the balcony which offers fantastic views across the City. On Level 5, there is also an exit onto Penrallt Hill, just a few steps away from the University's Main Arts Building.

We hope you will enjoy discovering Pontio.