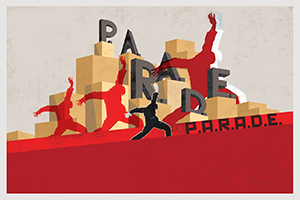 P.A.R.A.D.E.

Theatr Bryn Terfel
Saturday, 28 October, 7.30pm
Sunday, 29 October, 3pm
£14.50/£12.50 concessions
Revolution is in the air — join the P.A.R.A.D.E

Featuring dance, music and a renegade aerial robot, P.A.R.A.D.E is an epic spectacle created by National Dance Company Wales and the artist Marc Rees.

Join us outside as protests build, the processions arrive and speakers take to the stand - but is everything as it seems? As you're guided through an art-installation to take your seats in the theatre you'll hear the glorious sound of the BBC National Orchestra of Wales and be immersed in two dance pieces: a new commission by Marcos Morau and the rarely seen Parade, reimagined by NDCWales artistic director Caroline Finn.

These happenings are a recreation of Parade's premiere a century ago in 1917. Revolutionary and scandalous it was an artistic collaboration between choreographer Leonide Massine, writer Jean Cocteau, composer Erik Satie, and designer Pablo Picasso for the dance company Ballets Russes, and which laid the foundation for the surrealism movement.

P.A.R.A.D.E is part of the Russia '17 season that marks the centenary of the Russian revolution with a range of events which capture the social and cultural explosion of the era and Wales' historic connections with the Russia of the time. R17.wales The outdoor events are free and you can turn up on the day. A ticket is required for the performances in the theatres which can be bought in advance or on the day.

Presented by National Dance Company Wales & Marc Rees
In collaboration with BBC National Orchestra of Wales and Dawns i Bawb.

Age guidance: 8+ (no under 2s)

Satie: music and life less ordinary
Friday, 27 October, 1-2pm
Studio, FREE but ticketed

'It's not a question of Satie's relevance. He's indispensable' said John Cage.

In anticipation of National Dance Company's P.A.R.A.D.E., we look at the life and music of Erik Satie and particularly his collaboration with Cocteau, Picasso and Diaghilev, Parade in the company of Professor Chris Collins, Head of Music at Bangor University.

If you have or are planing to book tickets for P.A.R.A.D.E. please read this customer information sheet.