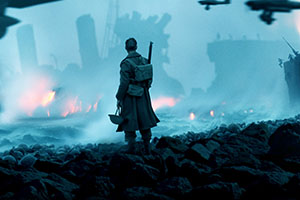 Dunkirk (12A)

Christopher Nolan, 2017, 120m
Cast – Kenneth Branagh, Mark Rylance, Cillian Murphy, Tom Hardy, Harry Styles
Friday 4 – Thursday 17 August
£7.50 standard / £6 over 60 / £5.50 student / £5 child (under 18s)
When 400,000 men couldn't get home, home came for them.

In May 1940, Germany advanced into France, trapping Allied troops on the beaches of Dunkirk. Under air and ground cover from British and French forces, troops were slowly and methodically evacuated from the beach using every serviceable naval and civilian vessel that could be found. At the end of this heroic mission, 330,000 French, British, Belgian and Dutch soldiers were safely evacuated.

This extraordinary historical moment forms the basis for the latest film from one of the world's greatest film makers Christopher Nolan (The Dark Knight, Interstellar, Inception, Memento).

Described by Nolan as a thriller more than a war film this epic will undoubtedly be regarded as one of the 'must see' cinematic experiences of this (or any) year. With an all star cast including Kenneth Brannagh and Harry Styles a big screen viewing will be essential.