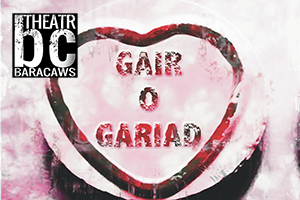 Theatr Bara Caws
Gair o Gariad
Studio
Wednesday 31 May & Thursday 1 June, 7.30pm
£12.50
Let's raise our glasses to long lost loves and current lovers, to mums, to dads and to absent friends…

Theatr Bara Caws in collaboration with Uninvited Guests with the support of Pontio stage an event that is somewhere between a wedding reception, a wake and a radio dedication show. We speak of our own and other's loves – deep, passionate, ambivalent and unrequited – and dedicate songs to them. Send a dedication to someone you love telling us what they mean to you and why you've chosen this piece of music. Your letters of love may become part of the show, romantic gestures or signs of friendship, shared publicly between us.

Age: 12+

On buying your ticket over the phone, the ticket office will ask for your email address or phone number so that Bara Caws can contact you asking for your dedication. Your personal information will not be shared, and you may remain anonymous if you so wish. This is a Welsh language production.

If booking online you can download the  song dedication  form here and forward it to the email/post address on the form.
Original production: Love Letters Straight from your Heart, by Uninvited Guests and Fuel company