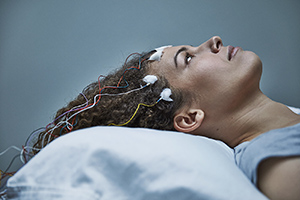 Unrest (12A)

Jennifer Brea, 2017, 98m
Sunday 12 May, 2pm
£7.50 standard / £6.50 over 60 / £6 student / £5.50 child (under 18s)

To coincide with this year's ME Awareness Day on Sunday 12th May. We are very pleased to able to screen Jennifer Brea's Sundance award-winning documentary, Unrest. Jennifer is twenty-eight years-old, working on her PhD at Harvard, and months away from marrying the love of her life when a mysterious fever leaves her bedridden. When doctors tell her it's "all in her head," she picks up her camera as an act of defiance and brings us into a hidden world of millions that medicine abandoned.

Jennifer Brea's wonderfully honest and humane portrayal asks us to rethink the stigma around an illness that affects millions.

Unrest is a vulnerable and eloquent personal documentary that is sure to hit closer to home than many could imagine.